SentrySafe

Digital Fire/Water Safe

: Model SFW123FSC

SFW123FSC Digital Fire/Water Safe

is rated out of

5

by

145

.

Extra Large

Model

SFW123FSC

Interior Capacity 1.23 cubic ft
Price Range: $200-$400
Security Protection
Fire Protection
Water Protection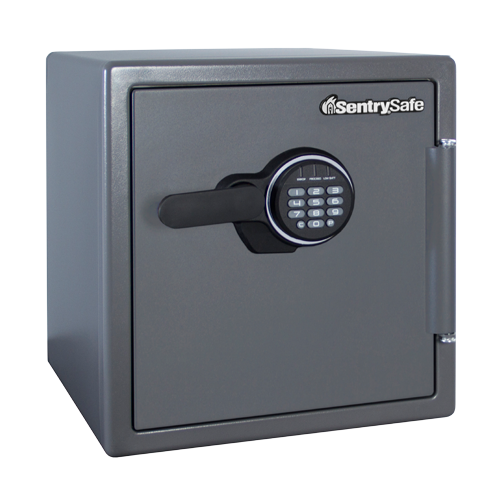 Top of the Line Protection
Fire Protection

UL Classified to protect your valuables in a fire for 1 hour in up to 1700°F (927°C)

Water Protection

ETL Verified water resistance to protect your valuables in up to 8 inches of water for up to 24 hours

Security Protection

More Information

2-4 live-locking bolts, solid steel construction and pry-resistant hinge bars provide our best protection from forced entry and tool attacks
Overview
The SentrySafe Digital Water and Fireproof Safe SFW123FSC offers protection for your important documents, digital media and other valuables. The SFW123FSC is designed to protect your items in the case of a fire or flood. With a key rack, door tray, and door pocket, this safe is ideal for keeping your irreplaceable items secure and organized.
Features
Digital Lock
This battery-powered digital locking system uses a programmable 1-8 digit code. Multiple user options vary by model.
4 large 1-inch bolts
60% bigger than traditional safes
Digital Media Protection
Protect tablets, phones, external hard drives, memory cards, USB drives, CDs, DVDs and other electronic storage devices.
Pry-Resistant Hinge Bar
Pry-resistant hinge bar reinforces the door of the safe for added protection against theft.
Steel Construction
Solid steel construction for durable and reliable protection.
Interior Organization
Key rack, door tray, deep door pocket, and adjustable shelf
Interior Lighting
Interior lighting provides increased visibility in dimly lit locations, so you can easily access your items without additional lighting.
Bolt Down Hardware
Ensures thieves cannot easily remove the safe from your home or office.
Specifications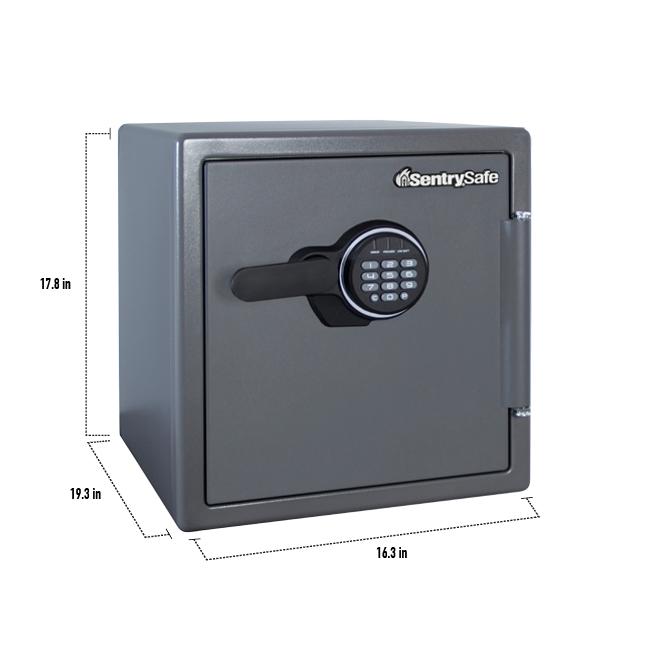 Exterior Size

17.8 in H X 16.3 in W X 19.3 in D

Interior Size

13.8 in H X 12.6 in W X 11.9 in D

Capacity

1.23 cubic ft

Lock Type

Digital

Peril Type

Security, Fire, Water

Weight

85.490 lb

Material

Steel-Cased Fire Insulation
Note:
All dimensions and weights provided are approximate, and are subject to change without notice.
Support
Product Manual

Download the latest owner's manual for this product.

View Product Manual

FAQs

Find answers to the most frequently asked questions.

View FAQs

Videos

Guides to safe setup, troubleshooting, and other support needs.

View Videos
Rated

4

out of

5
by
BGLawren
from
You get what you pay for
Got a great price on this unit on Black Friday. Like the fire and water rating for the price point. Jury still out on the digital entry system. Just makes me nervous that batteries are the key and not a key or combo. Those are available, but this was the sale item. So far, it fits our needs. The only thing that would have made it better would have been more options for inside organization. One shel is all that it came with and horizontal adjustments only. For this size safe, a few vertical slots would have been real nice, allowing documents or other stuff to stand vertically.
Date published: 2018-12-08
Rated

4

out of

5
by
JoeCF
from
Seems fine
So far the safe appears to be good. I am a bit concerned with storage of digital media. Your promotional materials highlight storage of digital materials. However, there are warnings in the operators manual about storing digital media in the safe due to potential moisture damage. I did send a question to your customer service asking about this inconsistency. Their response was that storing digital media was included in the spec sheet, but that all fire resistant safes accumulate moisture recommending frequent opening and desiccant. I remain concerned.
Date published: 2018-09-20
Rated

1

out of

5
by
Awithy
from
Freezes up. Second one that does it.
I own a restaurant and I need to get into our safe every day at least three times a day. When we bought the restaurant two months ago I noticed the old safe (a sentry safe) would stick now and then. The code was correct. The green light would come on but the door wouldn't open. Figuring it was old we bought a new one same size similar model. Now less than a month later the new one won't open. We have to throw it around and slam it on the floor to get it to open. So either we have terrible luck with sentry safes or there are some serious flaws in these models.
Date published: 2021-03-21
Rated

1

out of

5
by
nosafe
from
Just when you thought it couldnt get any cheaper
Cheaply made. Photographs made to look like metal. Actually mostly plastic. Handle feels like it would just break off under minor had pressure and sure it would. I feel like I have to be very careful when opening and closing the door. The lock pad feels ok. Outer skin in very thin metal. The top of mine is warped and not flat, so putting anything on top of it is a no go. Hinges are plastic. I am sure that one swift strike with a small hammer or other hard device would knock the door off this safe. Overall I would not recommend this safe.
Date published: 2020-01-03
Rated

4

out of

5
by
David Beth
from
Good capacity for what we need
We had a similar safe to this one which lasted over 12 years before it had problems opening the door, so we feared we might have all our belongings locked in. We decided to order a new one in a similar model, with the hope that we could bolt it down into the same holes in the floor (didn't quite). Unfortunately the handle had a similar problem to the old one, and started jamming with the door stuck either open or shut. We have managed to arrange a replacement from the manufacturer via our seller without too much hassle, and the handle and locking mechanism seem to work more easily, but it is obviously a potential issue. Bolting it to the floor is not an easy issue; it is hard work finding your holes in the floor and getting the bolts into them under 40kg of safe! We do find the safe very useful when it is working - and like having the light inside in a rather gloomy spot.
Date published: 2019-05-27
Rated

4

out of

5
by
Colonel Bravo
from
Roomy and waterproof
I bought a previous Sentry safe (the 0.6 cu in) model about 15 years ago. It had locking bolts on both sides of the door so that a burglar could not pry off the hinges. The new safe is much roomier but has no locking bolt where the hinges are. The exposed hinges looks like a few minutes work with a grinder to remove and then open the door. Otherwise, if the safe is hidden from view the thief must take the time to find it. For the price, it keeps honest thiefs from being tempted, but a couple of bad guys could simply lift the safe up and take it home with them. I am thinking of using the bolts provided to secure the safe to the floor. I also purchased two of the locking drawers so I can put things into the safe more discretely and better organized.
Date published: 2021-01-14
Rated

3

out of

5
by
Brandon
from
Worried
I loved the thought of a nice sentry safe, but found multiple discrepancies that would prove this safe rather insecure. 1 being the door hinges seem to be glued/epoxied onto the safe body which can be easily defeated and the safe locking mechanism can be easily defeated with a magnet... the handle also feels of cheap plastic
Date published: 2019-05-09
Rated

3

out of

5
by
BDal
from
Its OK
I was surprised to find that the upper rear corner was not very well formed. I would have expected this to have failed Quality Control. However, it does not seem to have invalidated the strength of the safe and I really can't be bothered to ship it back to you via Belgium and France!
Date published: 2018-10-08