SentrySafe

Combination Fire/Water Safe

: Model SFW123CS

SFW123CS Combination Fire/Water Safe

is rated out of

5

by

718

.

Extra Large

Model

SFW123CS

Interior Capacity 1.23 cubic ft

BUY NOW FROM SENTRYSAFE + FREE SHIPPING*

*Orders from SentrySafe can only be shipped to the contiguous United States.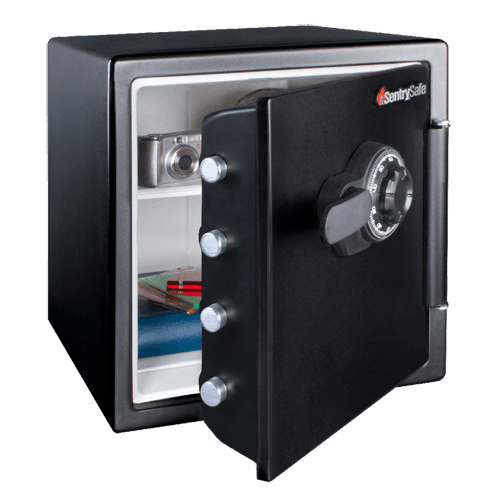 Security Protection
Fire Protection
Water Protection
Top of the Line Protection
Fire Protection

UL Classified to protect your valuables in a fire for 1 hour in up to 1700°F (927°C)

Water Protection

ETL Verified water resistance to protect your valuables in up to 8 inches of water for up to 24 hours

Security Protection

More Information

2-4 live-locking bolts, solid steel construction and pry-resistant hinge bars provide our best protection from forced entry and tool attacks
Overview
The SentrySafe Combination Water and Fireproof Safe SFW123CS is designed to protect your important documents, digital media and other valuables. Solid steel construction and a pry-resistant hinge bar help protect against unwanted access. This safe also offers UL Classified fire protection and ETL Verified water protection for fire and flood damage and an interior organizer to meet your home and office security needs.
Features
Combination Lock
Our 3- or 4-number factory-set combination locks are one of the most reliable form of securing your valuables.
4 large 1-inch bolts
60% bigger than traditional safes
Digital Media Protection
Protect tablets, phones, external hard drives, memory cards, USB drives, CDs, DVDs and other electronic storage devices.
Pry-Resistant Hinge Bar
Pry-resistant hinge bar reinforces the door of the safe for added protection against theft.
Steel Construction
Solid steel construction for durable and reliable protection.
Interior Organization
Key rack, door tray, and deep door pocket
Specifications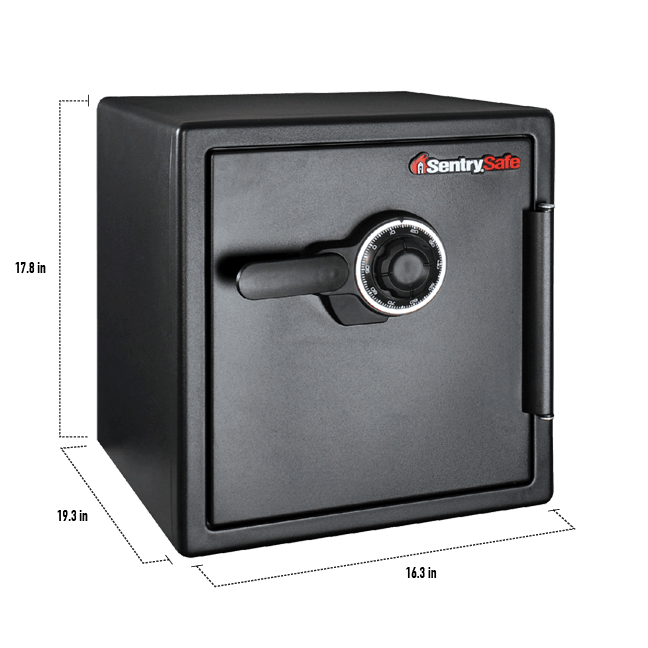 Exterior Size

17.8 in H X 16.3 in W X 19.3 in D

Interior Size

13.8 in H X 12.6 in W X 11.9 in D

Capacity

1.23 cubic ft

Lock Type

Combination

Peril Type

Security, Fire, Water

Weight

85.25 lb

Exterior Material

Steel-Cased Fire Insulation
Note:
All dimensions and weights provided are approximate, and are subject to change without notice.
Support
Product Manual

Download the latest owner's manual for this product.

View Product Manual

FAQs

Find answers to the most frequently asked questions.

View FAQs

Videos

Guides to safe setup, troubleshooting, and other support needs.

View Videos
Rated

4

out of

5
by
Lorne
from
A good, economical safe
This is an economy safe that provides good security for the price class. I especially like that it has both fire and water protection, as many of our most important possessions are documents that are uniquely susceptible to both. Also, this safe is great for a renter like me, because you don't need to bolt it to a floor or put it into a wall, which no landlord is likely to let you do. The only downsides are that it is easy to carry off and that being a combination-lock-only safe, somebody who is determined to get in will be able to crack it, but as with most things in our country, if you want something better, you're going to have to go way up in price class. All in all, it is a good safe for the price, and I'm pleased with my purchase.
Date published: 2019-08-24
Rated

1

out of

5
by
MJM1
from
Not Safe for Pain Meds
This safe is heavy because of the sand fill used for fire protection in the walls and door. The walls and door actually only have a light gauge steel skin over the fill material. A person was able to use a screw driver to peel back the door skin on the hinge side on my safe, gouge out the sand fill, then slide back the four lock bolts, allowing the door to be removed. (See photo) A determined attacker with a little time will break into this safe. The use of "solid steel" in the description seems misleading.
Date published: 2019-04-30
Rated

4

out of

5
by
Reb US
from
Strong, sturdy safe. Very heavy.
This seems like a very sturdy, well made safe. I researched a lot of safes before deciding on this one. However, my main purpose for it was to have a safe place to store my external computer disks. The outside of the box has a picture of a flash drive disk and it says "ETL certified fire protection for digital media." But when I opened the box and got out the owner's manual, it says on the first page NOT to store digital media in this safe, due to it collecting moisture. So now I'm not sure if it will even work for what I bought it for. I ordered some desiccant and will check out air tight containers, but I did not expect to have to do this. The outside of the box seems a bit misleading.
Date published: 2020-06-11
Rated

1

out of

5
by
99bottles
from
Disappointed in this product.
Safe doesn't sit flat on the floor. It rocks back and forth on the opposite corners where I drilled for the floor bolts. I think it's because the insulating material became displaced during the drilling process. White chunks and powder came out of the holes and what was left inside moved around. I also think the fire rating itself is compromised because of this. Not good!! As others have stated, the handle seems rather flimsy for a safe of this size. It's also a lot smaller on the inside than I was anticipating.
Date published: 2018-07-16
Rated

2

out of

5
by
Rednek
from
Decent i guess....
Its a decent safe. Too much plastic tho in my opinion. If its 'really' fireproof then the plastic inside is acceptable, but the lever on the outside and the dial is all plastic. If someone broke in and was trying to get in the safe, without a doubt in my mind the lever would snap rite off rather quickly and the combo wheel could be smashed with one swing of a hammer. Very disappointed actually, the only reason i give it 2 stars is because of two reasons. 1; it has 4 metal pins that latch the door shut. Altho they are encased by & latch into plastic... 2; it has a decent amount of weight to it even when empty. But i could still carry it myself with 150lbs of stuff inside it....
Date published: 2021-03-18
Rated

1

out of

5
by
Aleh
from
It's a toy box, not safe!
1. Cheap plastic handle and parts of combination lock are ready to break at any time. 2. Poorly installed door. The space between the wall and the door at the top of the safe is double the space at the bottom. See pictures. 3. Back wall of the safe has 4 !!!(four) ~1.5 inch diameter holes covered with plastic. Because of that this box cannot be called a "safe". See picture 4. Rather than the sides of the safe being welded to the back wall, the back wall is attached the side walls at a 90 degree angle with tight connection, where the back wall curves on top of the side walls. This creates visible seams, which can be pried open. Overall, this "safe" isn't really a safe at all. It'll protect your valuables from children and fire, yes, but if any adult really wants to break into it, they will probably be able to do so in less than half an hour. I bought this safe online at Walmart, and I returned it the next day. I don't recommend it to anyone.
Date published: 2018-08-31
Rated

1

out of

5
by
MrBill59
from
Silly piece of junk
The dial and handle are cheap plastic. Feels very low quality, very concerned it will break under normal use. If the house burns, the plastics is going to melt, no idea on how I would get the thing open. Planning to junk it, get something else.
Date published: 2021-06-10
Rated

1

out of

5
by
Tball
from
Don't buy
Recently had a small flood in basement due to rainstorm. I had 3-4inches (no more) for 3 hours (no more) when water drained back out with sump pump.. I was not worried at all about what was in the safe due to low level of water and short time in it. Then I opened safe and was so disappointed to find out that the safe actually let water in and had covered the first two inches inside of the safe. Cant recommend. Concerned now if it would work correctly in a fire.
Date published: 2021-09-11