SentrySafe

Quick Access Biometric Pistol Safe

: Model QAP1BE

QAP1BE Quick Access Biometric Pistol Safe

is rated out of

5

by

44

.

Small

Model

QAP1BE

Interior Capacity 0.08 cubic ft
Price Range: $200-$400
Security Protection
Fire Protection
Water Protection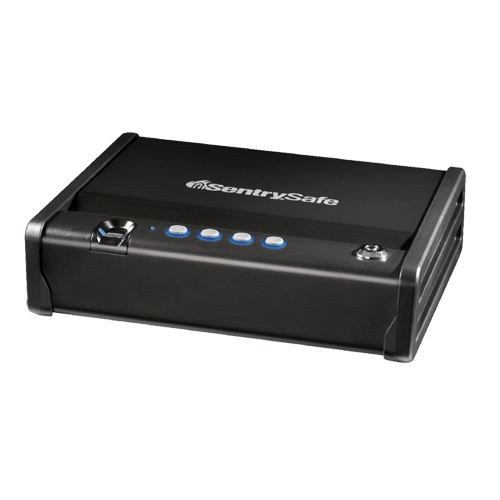 Overview
The SentrySafe QAP1BE Quick Access Biometric Pistol Safe is equipped with a biometric fingerprint scanner to protect your firearms from unauthorized entry. This biometric gun safe also offers back-up entry with a silent digital lock and override key to provide advanced protection for your home defense needs. Compression gas strut and single handed access design allow for fast, quiet access to your handguns when you need it most.
Features
Biometric Lock
Our most advanced locking system allows you to access your safe with the swipe of a finger.
Single-Handed Access
Provides quick and reliable access to your pistols
Compression Gas Strut
Automatic door opening when your safe is unlocked for fast, quiet, and discreet entry.
Steel Construction
Solid steel construction for durable and reliable protection.
Soft Interior Lining
Ensures your fragile or delicate valuables are protected from scratches.
California DOJ Certified
Department of Justice California DOJ Certified for firearm storage and protection
Bolt Down Hardware
Ensures thieves cannot easily remove the safe from your home or office.
Specifications
Exterior Size

3.2 in H X 12.1 in W X 9.9 in D

Interior Size

2.2 in H X 9.7 in W X 6.7 in D

Capacity

0.08 cubic ft

Lock Type

Biometric

Peril Type

Security, Fire, Water

Weight

11.900 lb

Material

Solid Steel
Note:
All dimensions and weights provided are approximate, and are subject to change without notice.
Support
Product Manual

Download the latest owner's manual for this product.

View Product Manual

FAQs

Find answers to the most frequently asked questions.

View FAQs

Videos

Guides to safe setup, troubleshooting, and other support needs.

View Videos
Rated

1

out of

5
by
Bryl
from
Be Careful: Door Struts Go Bad After Warranty Date
I bought 3 of these safes for my pistols and they worked Great for 1 year. Then the door struts (what flips door open) went bad on all 3 units in about 1 1/2 years. The 1 year Warranty expired, so I have 3 useless safes now. So if you only want the safe to work for a year or so, then go for it.
Date published: 2018-05-31
Rated

3

out of

5
by
Andy1
from
Great safe but door struts failed...
I came onto this website today to see if anyone has had the same problem and coincidentally the person to leave the latest review had his door struts fail too. So after 1 year of my purchase the struts failed so the door doesn't fully open. The door still opens upon unlocking the safe but it only cracks open about an inch or so... if any Sentry Safe representative reads this please address the issue and help me with the restoration of my safe! I do love your products!
Date published: 2018-08-01
Rated

5

out of

5
by
Gio10992
from
Very heavy, I hope that means strong :)
PROS: It is very heavy and I hope that means strong. The gap between door and frame is small which should make it harder to pry it open I liked how easy it was to set up the combination and the finger bio locks. The strut arm that opens the door automatically after a successful unlocking is great. It is big enough to easily fit my rather wide S&W N Frame Revolver. CONS: It only allows for 2 fingerprints. I would prefer 6 prints or at least 4. I wish it came with the thick black cutaway foam (Kaizen foam) like I have in my other BioSafe which helps protect the pistol from being jarred around and scratched. I had to use my own Kaizen foam. All in all I like this safe.
Date published: 2018-07-23
Rated

3

out of

5
by
ATBster
from
Safe with Flexible Options & minor irritations
The safe arrived before scheduled and on budget, so good. But two things are irritating about the setup and installation. 1. Directions regarding programming numbers are unclear. Are the only numbers available 1-4? 2. It does not appear that one can program numbers AND fingerprint. This is unclear from the directions. 3. I could only manage to program one fingerprint, not two as advertised. Again, the directions are unclear and/or lacking. This product would have received 5 stars except for the poorly written and incomplete directions.
Date published: 2018-08-26
Rated

2

out of

5
by
Victor1234
from
Great Safe Until It Stops Working
Safe was perfect until the device stopped working and SentrySafe refused to remedy the issue. Their only offer was a 15% coupon to buy another safe. I've owned the safe for just over two years with little use. The safe was only open less that once every two weeks and now is inoperable. Very disappointed by a product that can't last longer than two years and doesn't have a manufacture that stands behind their product. Will never purchase another sentry safe product
Date published: 2018-11-25
Rated

4

out of

5
by
InGlockwetrust
from
A good preventative measure
For the most part, this safe is great. I love the look, and functionality of it. My fiancé and I were able to set it up/program it in less than 10 minutes out of the box. My only concern is that any "real thief" will find a way into it. It's strong, sturdy, and definitely idiot/child proof, but it says right in the instructions that if you lose the key, or forget your code you can just use a magnet to turn the locking mechanism to force it open. I realize that this would be a bit of an extreme circumstance that someone would break into our house, make it passed me, my dogs, and my fiancé, and steal and break into this safe, but it could happen. I do believe it's an excellent "bedside" safe for the money, but since it could potentially be broken into somewhat easily, 4/5 stars.
Date published: 2018-12-10
Rated

5

out of

5
by
WiseguyDS
from
Excellent. Just what I needed
One thing I couldn't find is a reliable biometric safe. I custom-made a steel bracket and bolted it to the back side of the safe. Now it hangs on the side of my bed for easy reach. What I would like to see is the ability to tether it with a cable and an AC adapter if a commercial version of what I have done is ever made.
Date published: 2018-08-28
Rated

2

out of

5
by
DrRobert
from
Lousy piston
Just bought this safe. Set the code and scanned a couple of fingerprints. The safe opened reliably half a dozen times then the piston failed. I am really concerned that I will not be sble to get the lid open when it is really critical. The manual said to use s magnet, but that should not be necessary. It is either terible engineering or poor quality materialsl.
Date published: 2018-11-19