SentrySafe

Quick Access Biometric Pistol Safe

: Model QAP1BE

QAP1BE Quick Access Biometric Pistol Safe

is rated out of

5

by

283

.

Small

Model

QAP1BE

Interior Capacity 0.08 cubic ft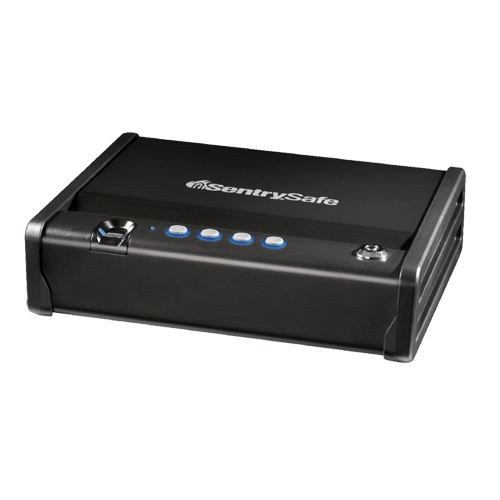 Security Protection
Top of the Line Protection
Security Protection

More Information

Solid-steel construction, pry-resistance and heavy duty locks provide higher protection against tool attacks
Overview
View our new QAP1BLX Biometric Pistol Safe >

The SentrySafe QAP1BE Quick Access Biometric Pistol Safe is equipped with a biometric fingerprint scanner to protect your firearms from unauthorized entry. This biometric gun safe also offers back-up entry with a silent digital lock and override key to provide advanced protection for your home defense needs. Compression gas strut and single handed access design allow for fast, quiet access to your handguns when you need it most.
Features
Biometric Lock
Our most advanced locking system allows you to access your safe with the swipe of a finger.
Single-Handed Access
Provides quick and reliable access to your pistols
Compression Gas Strut
Automatic door opening when your safe is unlocked for fast, quiet, and discreet entry.
Steel Construction
Solid steel construction for durable and reliable protection.
Soft Interior Lining
Ensures your fragile or delicate valuables are protected from scratches.
California DOJ Certified
Department of Justice California DOJ Certified for firearm storage and protection
Bolt Down Hardware
Ensures thieves cannot easily remove the safe from your home or office.
Specifications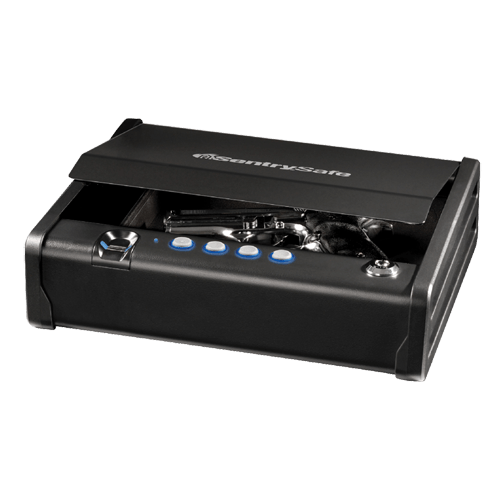 Exterior Size

3.2 in H X 12.1 in W X 9.9 in D

Interior Size

2.2 in H X 9.7 in W X 6.7 in D

Capacity

0.08 cubic ft

Lock Type

Biometric

Peril Type

Security

Weight

11.9 lb

Exterior Material

Solid Steel
Note:
All dimensions and weights provided are approximate, and are subject to change without notice.
Support
Product Manual

Download the latest owner's manual for this product.

View Product Manual

FAQs

Find answers to the most frequently asked questions.

View FAQs

Videos

Guides to safe setup, troubleshooting, and other support needs.

View Videos
Rated

1

out of

5
by
Cedarburger
from
Great at first...
I really wanted to love this safe. I am from WI and that made me want to love them even more! These are two of four Sentry safe products we have in our house, but I may have to look for other options. I bought two (2) of these safes. Out of the box they were awesome. Opened quickly and completely. I change the batteries each 6 months to a year. The problem is the cylinder (as others have mentioned). They got really slow which does not help in an emergency situation. Now, two years later, one opens all the way but very slowly. The other opens half way, also very slowly. I am very disappointed. The cylinders on my tailgate glass lasted over 10 years with daily use!
Date published: 2019-08-23
Rated

5

out of

5
by
Nammy
from
Finally a great biometric / How I fixed my strut.
I've had other biometric pistol safes before, and this beats them hands down. The quick swipe finger pad is easy to see, impossible to miss even when you are in a hurry, and quick. I've had it a couple of years and yes, my strut started getting weak. For a few cents I got another spring like the one on the strut. Without disassembling anything, I just wound the spring on the strut, effectively increasing the opening force. Just like new. I'm guessing the spring will last me longer than a new strut.
Date published: 2019-02-10
Rated

3

out of

5
by
Andy1
from
Great safe but door struts failed...
I came onto this website today to see if anyone has had the same problem and coincidentally the person to leave the latest review had his door struts fail too. So after 1 year of my purchase the struts failed so the door doesn't fully open. The door still opens upon unlocking the safe but it only cracks open about an inch or so... if any Sentry Safe representative reads this please address the issue and help me with the restoration of my safe! I do love your products!
Date published: 2018-08-01
Rated

1

out of

5
by
A_aron
from
Worked for 1 year - door fails to open fully
My safe worked great for a year. After the year mark, I noticed the door to the safe wouldn't lift as high when unlocking it. I changed the batteries and had the same results. Now at a little over 2 years, I unlock the safe and have to carefully lift the door from the side to get it open. After reading some of the reviews here, it looks like a pretty common issue with this product. It would be great but it's expensive and not a investment if it stops being effective after a year.
Date published: 2020-02-16
Rated

1

out of

5
by
Bryl
from
Be Careful: Door Struts Go Bad After Warranty Date
I bought 3 of these safes for my pistols and they worked Great for 1 year. Then the door struts (what flips door open) went bad on all 3 units in about 1 1/2 years. The 1 year Warranty expired, so I have 3 useless safes now. So if you only want the safe to work for a year or so, then go for it.
Date published: 2018-05-31
Rated

3

out of

5
by
ATBster
from
Safe with Flexible Options & minor irritations
The safe arrived before scheduled and on budget, so good. But two things are irritating about the setup and installation. 1. Directions regarding programming numbers are unclear. Are the only numbers available 1-4? 2. It does not appear that one can program numbers AND fingerprint. This is unclear from the directions. 3. I could only manage to program one fingerprint, not two as advertised. Again, the directions are unclear and/or lacking. This product would have received 5 stars except for the poorly written and incomplete directions.
Date published: 2018-08-26
Rated

5

out of

5
by
CharlieY
from
Great safe and Amazing customer service
The electronics and biometrics work fine. After three or four years a problem developed that when the safe is unlocked the door doesn't open. I needed to use a thin item to pry the door up so that I can manually open it the rest of the way. I contacted SentrySafe and explained the issue and asked if there was a way for me to fix it, but instead the Customer Solutions Representative said that she would send me a new piston. My expectation was that they would make a recommendation of how to fix the problem, or sell me a part. It nice to see that there are still some companies who will stand behind their products. I will definitely buy from them again.;
Date published: 2020-10-28
Rated

1

out of

5
by
Johnny O
from
Dangerous Gas Strut Failure!!
After much searching I chose this item as my bedside pistol safe. I initially really liked every feature and had no complaints. However after approx a year the gas strut was slow to open the door and opened it less and less weekly and now it won't open the door at all making access to my firearm impossible and dangerous unless the unit it turned upside down. Contacted sentry and was directed to call customer service who will be only too happy to SELL me a replacement strut. From reading other reviews it appears that this is an ongoing and unresolved issue with this product. I don't trust this unit anymore and do not feel at all safe storing my firearm in it.
Date published: 2019-09-30