SentrySafe

Fireproof and Waterproof Safe with Dial Combination and Override Key

: Model FPW082K

with Master Lock Security Built In

FPW082K Fireproof and Waterproof Safe with Dial Combination and Override Key

is rated out of

5

by

26

.

Large

Model

FPW082K

Interior Capacity 0.81 cubic ft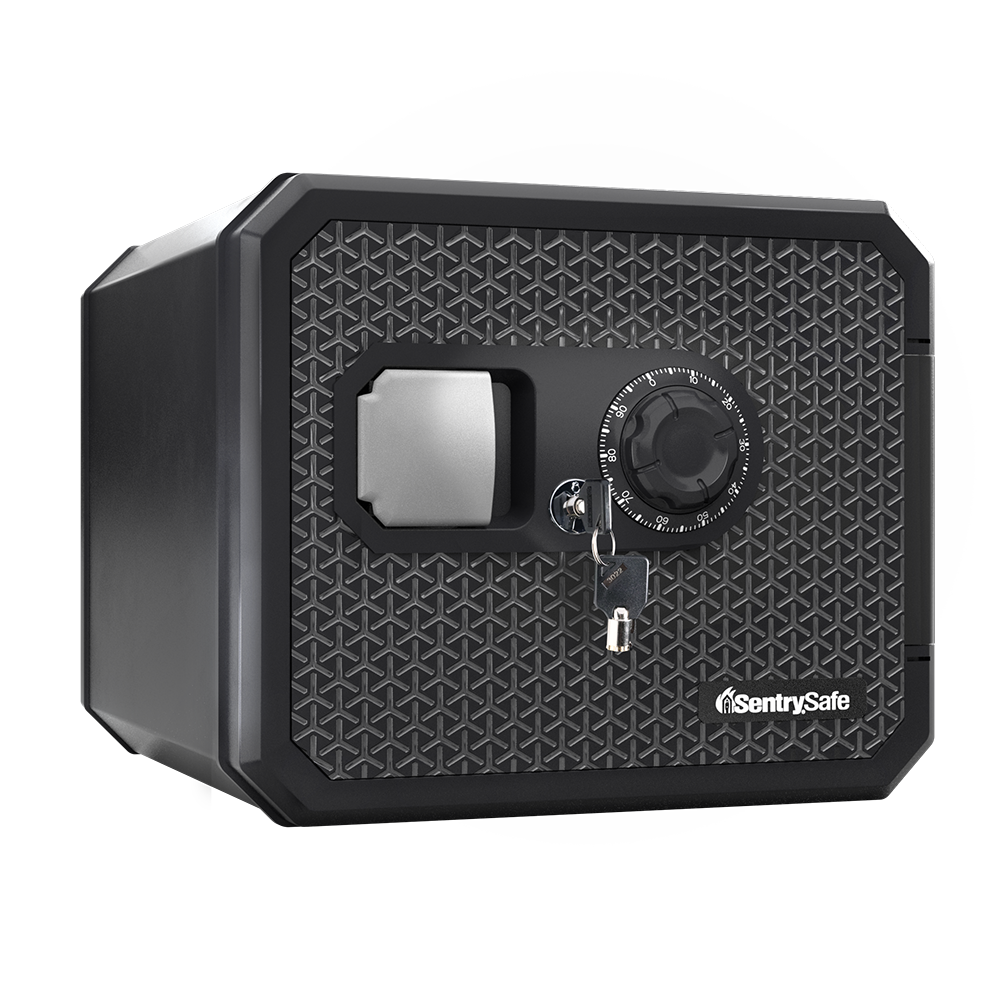 Security Protection
Fire Protection
Water Protection
Top of the Line Protection
Fire Protection

UL Classified fire endurance to protect your valuables up to 1700°F for 1 hour.

Water Protection

ETL Verified protection for your valuables in up to 5 inches of water for 24 hours.

Security Protection

More Information

2-4 live-locking bolts and pry resistant hinge bars provide our best protection from forced entry and tool attacks.
Overview
The FPW082K Combination Water and Fireproof Safe with Override Key provides 2 options to access your safe for everyday use or emergency situations. With best-in-class UL Classified fire protection, ETL Verified water protection, and Master Lock security built in, this safe provides the security you need.
Features
Master Lock Security Built In
Advanced locking technology that resists both physical attacks and lock manipulation.
Combination Lock
Uses factory-set 3-number combination.
Override Key
For convenient backup access or emergency situations.
Metal Handle Design
Integrated handle provides secure yet simple access.
Automatic Steel Bolts
3 large 1-inch bolts provide audible confirmation when locking your safe.
Digital Media Protection
Protect tablets, phones, external hard drives, memory cards, USB drives, CDs, DVDs and other electronic storage devices.
Pry-Resistant Hinge Bar
Reinforces the door of the safe for added protection against theft.
Interior Organization
Key rack and door pocket.
Specifications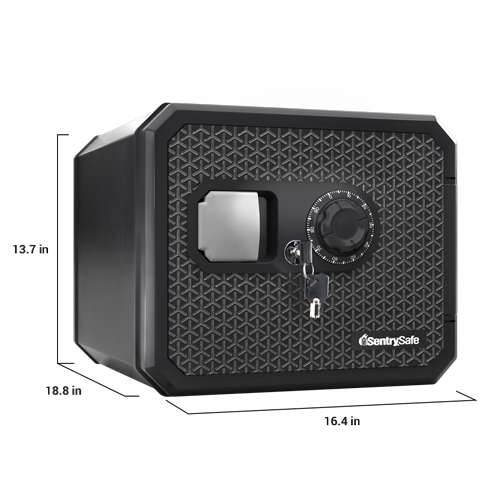 Exterior Size

13.7 in H X 16.4 in W X 18.8 in D

Interior Size

9.6 in H X 12.4 in W X 11.5 in D

Capacity

0.81 cubic ft

Lock Type

Combination

Peril Type

Security, Fire, Water

Weight

55 lb

Exterior Material

Durable Resin Wrapped Concrete
Note:
All dimensions and weights provided are approximate, and are subject to change without notice.
Support
Product Manual

Download the latest owner's manual for this product.

View Product Manual

FAQs

Find answers to the most frequently asked questions.

View FAQs

Videos

Guides to safe setup, troubleshooting, and other support needs.

View Videos
Rated

5

out of

5
by
Colorado2468
from
Fire & Water Proof Safe - This is Awesome!
SentrySafe Fireproof and Waterproof Safe is a great addition to the house as it comes with great features, including 1-hour fire protection up to 1700°F and 24-hour water protection in up to 5 in. of water. In addition, the safe comes with pry-resistant hinge bar, automatic steel bolts, approximately 0.81 cubic feet of storage, and both Dial Combination and Override Key as unlocking options. All of these are reasons why I like the safe so much as it definitely helps protect important valuables that are often times irreplaceable against unexpected situations or circumstances. Definitely recommend it!
Date published: 2023-07-22
Rated

5

out of

5
by
Whitewolf866
from
Heavy duty safe with great features
This is a heavy duty safe with great features. First off, let me say that I was surprised by the size of the safe. Not only does it have a combination lock, but it also has a set of keys to override the lock. The lock itself is a master lock, which speaks volumes. A well-known company for wonderful combination locks. The safe itself is both fire, proof and waterproof. The construction is top notch. The weight and construction of the safe make this a top pick for me. I'm very pleased with the safe, and I would definitely recommend it to anyone looking to keep their valuables in a safe place.
Date published: 2023-07-25
Rated

5

out of

5
by
JessW
from
Great Quality Heavy Duty Safe
After scanning the QR code the instructions were very clear how to open the safe with the number wheel lock, I really like the fact that there is a key backup in case someone misplaces the code . Very large interior that will hold any and all important papers and checkbooks that anyone has. Plenty of room for family heirlooms and pieces that you want totally protected from fire or water if there is a disaster. Super Heavy Duty that no one will just walk off with it and it fits on top of the filing cabinet like it was made for it. Very impressed with the quality and ease of use.
Date published: 2023-07-21
Rated

5

out of

5
by
gharp
from
Great qualify
This is a review for SentrySafe - FPW082K Fireproof and Waterproof Safe with Dial Combination and Override Key. Having the name Sentry on the front tells you right up front that it is quality. This safe seems very solid, well made and durable. I feel safer knowing I can protect some of my most valuable items from fire and water damage. What I appreciate the most is that not only is there a dial combination but there is also an override key!! That is huge!! Great job Sentrysafe!
Date published: 2023-07-31
Rated

5

out of

5
by
Lady Luck
from
Solid and secure
I was looking for a way to safeguard valuables like cash, passports, and other important documents, which is why I got this SentrySafe. I like that it provides fire protection (for an hour up to 1,700° F) AND water protection (up to 5" of water and 24 hours). This safe is a good, weighty, 60 pound safe that isn't one of those cheap light weight models. There are two options to open the safe - with provided key or with a combination dial. There are three large 1" inch bolts to lock the door and it has a pry-resistant hinge that provides additional protection so the safe can't be opened. There are also 5 little hooks to hang keys for safe keeping. I feel very confident that this safe will keep my personal items safe and secure from the elements and from those looking to take things that aren't theirs. Owning this safe gives me great piece of mind.
Date published: 2023-07-24
Rated

5

out of

5
by
Cac5151
from
Perfect Size
I have to say this is the perfect size safe for storing important paperwork and smaller valuables like coins or jewelry. Fits in the closet of my room just right so it doesn't take up much space at all. It is pretty heavy so you're not going to want to move it around much. I like that it has a combination lock as well as a key for added protection. And it's also fire safe so more protection. I feel you can't go wrong with this unit.
Date published: 2023-08-20
Rated

5

out of

5
by
Duhablondee
from
Nice sized safe for closet floor!
This is our first large SAFE after the small file lock box types. It is not to big to fit in tight spaces which is really nice for use in closets or bedroom corners. Definitely like that it's Fire and Water safe, however hoping I never have to worry about that feature. Can be bolted down so it's more secure, as it's not that heavy and could be carried away if someone felt the need to break in. It's sturdy and has a decent amount of room inside. The lock is easy to use, reminds me of high school locker dials. The inside door does have a battery compartment, that is used only for electronic lock safes, so it didn't apply to this particular model. Perfect for storing our important papers and husbands military records in. Although, I would recommend putting a small pack moisture control packet inside to help with humidity and protection of your documents. Definitely recommend Sentry products!
Date published: 2023-07-31
Rated

5

out of

5
by
nana354
from
Heavy Duty and secure
The SentrySafe is perfect for my valuables and important papers to be in a safe place. I love that it has an override key just in case I forget the combination. I love that it is heavy so people won't be able to walk off with it. This is a fire/water resistant safe and keeps my things well organized so I can retrieve them quickly. If you need a safe SentrySafe is the one for you.
Date published: 2023-07-28