SentrySafe

Fireproof Safe with Dial Combination

: Model FP082C

with Master Lock Security Built In

FP082C Fireproof Safe with Dial Combination

is rated out of

5

by

25

.

Large

Model

FP082C

Interior Capacity 0.81 cubic ft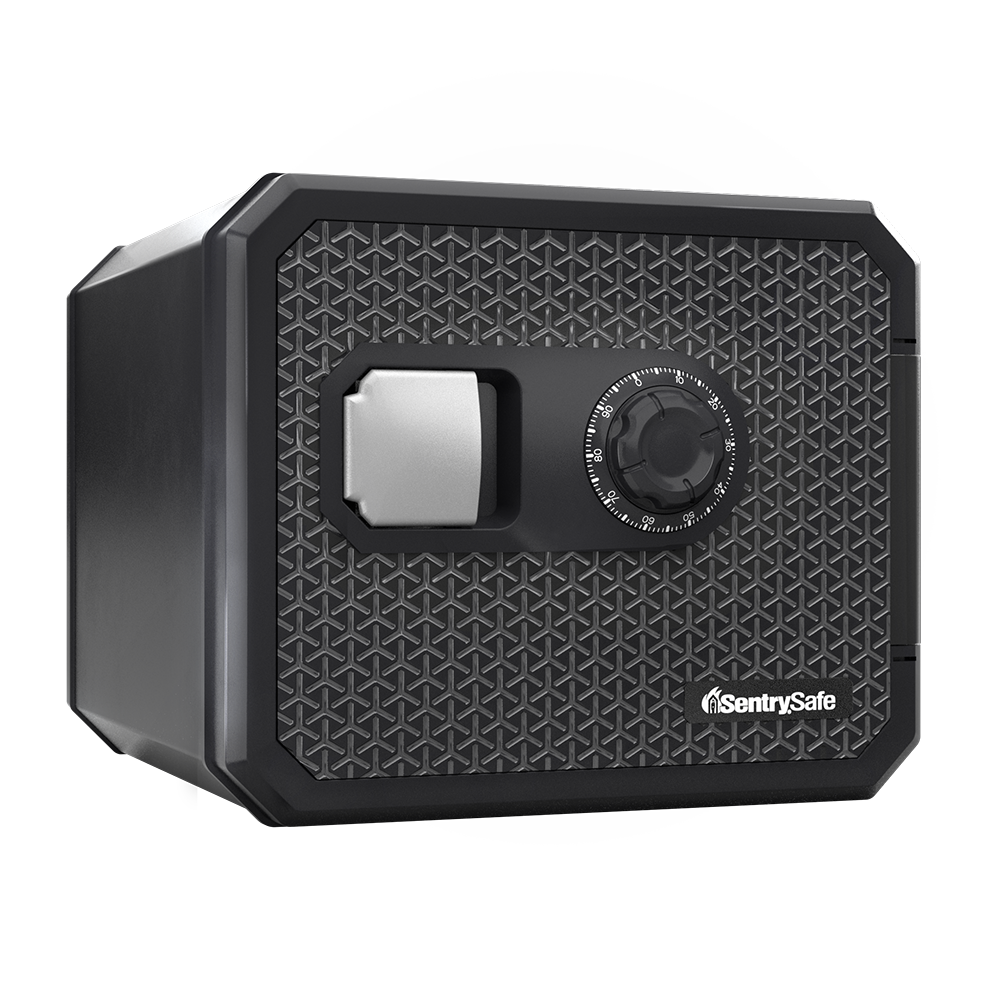 Security Protection
Fire Protection
Top of the Line Protection
Fire Protection

UL Classified fire endurance to protect your valuables up to 1700°F for 1 hour.

Security Protection

More Information

2-4 live-locking bolts and pry resistant hinge bars provide our best protection from forced entry and tool attacks.
Overview
The FP082C Combination Fireproof Safe is designed to protect documents, digital media and other valuables from fire and theft. With best-in-class UL Classified fire protection and Master Lock security built in, this safe provides the additional security you need.
Features
Master Lock Security Built In
Advanced locking technology that resists both physical attacks and lock manipulation.
Combination Lock
Uses factory-set 3-number combination.
Metal Handle Design
Integrated handle provides secure yet simple access.
Automatic Steel Bolts
3 large 1-inch bolts provide audible confirmation when locking your safe.
Digital Media Protection
Protect tablets, phones, external hard drives, memory cards, USB drives, CDs, DVDs and other electronic storage devices.
Pry-Resistant Hinge Bar
Reinforces the door of the safe for added protection against theft.
Interior Organization
Key rack and door pocket.
Specifications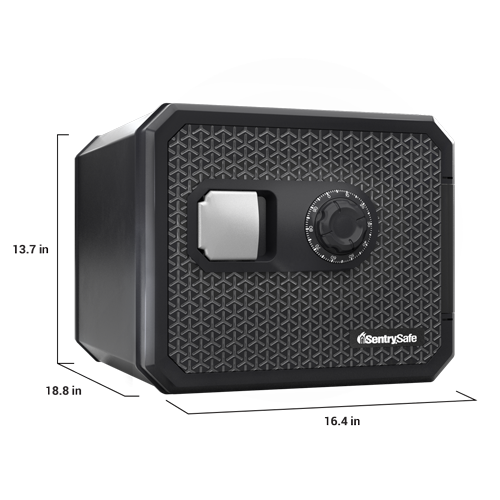 Exterior Size

13.7 in H X 16.4 in W X 18.8 in D

Interior Size

9.6 in H X 12.4 in W X 11.5 in D

Capacity

0.81 cubic ft

Lock Type

Combination

Peril Type

Security, Fire

Weight

55 lb

Exterior Material

Durable Resin Wrapped Concrete
Note:
All dimensions and weights provided are approximate, and are subject to change without notice.
Support
Product Manual

Download the latest owner's manual for this product.

View Product Manual

FAQs

Find answers to the most frequently asked questions.

View FAQs

Videos

Guides to safe setup, troubleshooting, and other support needs.

View Videos
Rated

5

out of

5
by
Karolina2225
from
Incredible Safe
This safe is amazing. It's solid and it's super heavy which makes it super secure.I really love the locking mechanism in this safe. It is very easy to make a combination. I love that I can store all of my precious documents and even keep important paperwork safe. It's a very spacious safe and has lots of room for many documents, passports and much more. I love that this is also a fireproof safe. Which is a great feature to the safe. Because it gives me an extra piece of mind, knowing that all of my important documents and items will be protected. I feel like that the safe is definitely a high-quality safe and it's perfect on the floor of my closet.
Date published: 2023-06-21
Rated

5

out of

5
by
JAVA510
from
Awesome Safe!
This is a heavy safe! Solid, safe, secure…and super heavy :) The locking mechanism has three gigantic bolts that lock into place. It's spacious inside, so it will hold the documents and items that we need it to (Birth records, SS Cards, etc.). I personally like how the metal handle feels as I open up the safe, it just has a nice and satisfying release to it. We are happy with it and we both feel safer having it in our home to keep our items safe. Make sure you read the instructions! I thought I knew how to do the combo because of a classic locker combination from my school days - it's just a little different than that.
Date published: 2023-06-09
Rated

5

out of

5
by
OhioMom614
from
Solid Protection
The Sentry Fireproof Safe with Dial Combination and Master Lock Security built-in offers a reliable and secure storage solution for your valuable belongings. The fireproof construction provides peace of mind, knowing that your important documents and precious items are protected in the event of a fire. The dial combination lock adds an extra layer of security, ensuring that only authorized individuals can access the contents of the safe. The unique feature of smartphone compatibility adds convenience, allowing for remote management and monitoring of the safe's status through a dedicated app. This integration enhances the user experience, providing easy access and control at your fingertips.
Date published: 2023-06-23
Rated

4

out of

5
by
BethA
from
Nice Size
I was looking to replace my current safe that only had .18 cubic ft of storage.  I found the Sentry Safe with the built in Master Lock security would fit my needs.  It is just the right size to keep copies of our important papers, passports and back up stick drives and so much more.  The fire protection is up to 1700 for 1 hour.  The only complaint I have about the safe is the manual dial doesn't feel as hefty as the rest of the safe. Reading the manual that comes with the safe is where you will find your combination. Also, I thought I knew how to unlock a  combination lock but this is different.   When you scan the QR code you register your safe and it will list the factory combination just incase you forget it,   
Date published: 2023-06-14
Rated

4

out of

5
by
atxred
from
Simple and Secure
I got this safe because we needed a safe place to store important documentation, i.e birth certificates, passports, titles to vehicles, and precious mementos. This safe is simple, it's a dial combination, and that's it. It has a good amount of heft (I believe it weighs 55 lbs). Meaning it's not super easy to move. It's nice and thick, and with a fireproof rating of 1700° F for 1 hr, it should provide the protections for those important things that I need. I do wish it had mounting points, so I could mount it in a cabinet, or on a shelf, and in places, the plastic exterior isn't the best put together, and the little feet have the worst adhesive I've ever seen, but overall this safe seems well constructed, and secure.
Date published: 2023-06-07
Rated

5

out of

5
by
ccomtois
from
Perfect size for home
This safe is the perfect size for our home. It is large enough to keep important documents and valuables in but not so large that we have a hard time hiding it. It fit neatly in the corner of an inconspicuous closet and is easily blocked by normal everyday items that would typically be found in such a spot. The safe is heavy; right around 45# but not so heavy that it couldn't be carried away. Unfortunately, there are no holes to fix it to the floor so finding a good hiding spot was essential in it's usefulness. It is SOLID!! A heavy steel frame and body has a smooth finish and the textured door is a nice touch. The dial combination is good in that there are no keys to be lost or taken. All in all this is a great safe for personal use.
Date published: 2023-06-15
Rated

5

out of

5
by
maowens
from
Heavy duty!
This is a great safe and perfect for the home that needs a medium size safe. It is very heavy so move it with caution and most likely it's not going to be one of the first things stole if someone breaks into your home. It weighs a heavy 55 pounds! On the inside it has plenty of storage for small items such as jewelry, important documents and other valuables. It is fire proof up to 1700F for up an hour. It has a dial combination which is more to my liking than having to deal with a key. You would have to know the combination to be able to break into this safe because it is protected with heavy duty locking bolts on the inside of the door. I am looking forward to many many year of use with this safe. Im thinking it should last a life time!
Date published: 2023-06-19
Rated

5

out of

5
by
Littledistrict
from
Absolutely perfect
I got this safe as I was looking for a product durable enough and fire proof to store all of my important papers and keeps sakes in a place where I felt they would be safe. This safe is a total must have !! It's really durable and fire proof and will definitely make you feel better about your prized and important belongings. Through a dial combination it really is simple to use. I love this safe and totally recommend this for anyone who wants to protect there personal belongings. Exceptional value and quality!
Date published: 2023-06-24